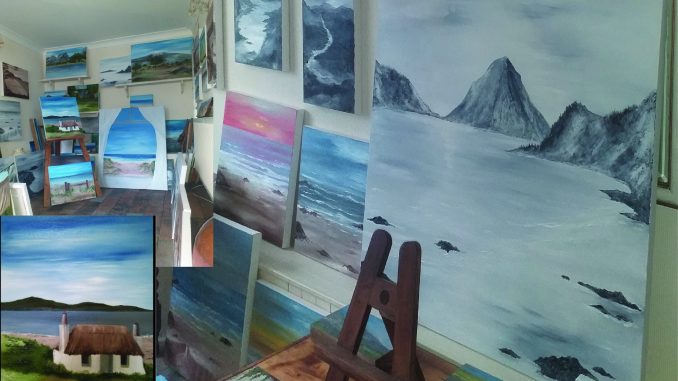 In the late seventies, David Cotton from Rhos was travelling around Europe, sketching to fund his travelling. After a 40 year gap and now retired, David has picked up his paint brushes and boasts an impressive art studio with dozens of paintings of local scenery.
In recent months, with coronavirus, David has been imaginative and exhibited his art in the front garden with 4 pop-up sales. Raising nearly £650 for Ty-Olwen in the process.
"It has been great" David tells me, "I have had quite a few people coming to me asking for commissions. It is affordable art, starting from £10. All paintings are reasonably priced and if someone has a special place they want painted this can be arranged, commissions are welcome.
"It was hard to get canvas during lockdown and so I started painting on wood-block. The advantage of that is that they can live outside as long as they are not being totally open to the elements.
"I'd like to thank everyone who has come along and bought art and donated to Ty-Olwen.
David looks forward to when people can visit the studio but for the time being is thinking of the next pop-up sale "It will be on a Sunday, I check the forecast and will then put a sign up on Neath Road, Rhos to say 'pop up sale this Sunday. You can also check our instagram page."
I've been fortunate to see the artwork and it is all very impressive and amazing for Rhos to be able to boast and art studio.