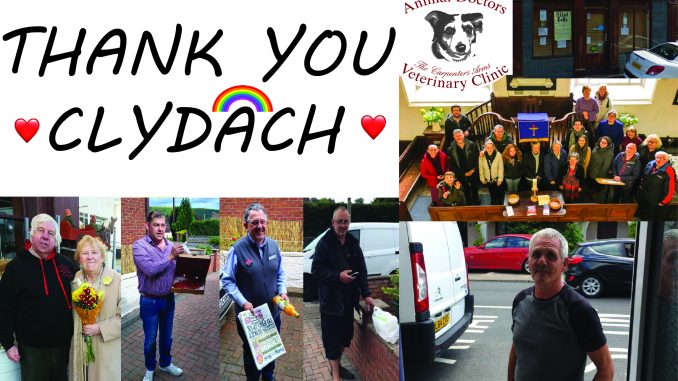 We asked residents to mention some people who deserve some extra credit for their support during lock-down.
Margaret Spooner was in touch and said:-
"I'd like to recognise the vets and all the staff in Animal Doctors veterinary practice for continuing to look after all the sick animals during lockdown. One of my dogs was diagnosed with a tumour and received the best care from them I could have asked for. Thank you"
I'm sure that Margaret's dog wasn't the only one needing help and there will be many more sending their thanks.
Hayley Rowden-Cooper also got in touch. Wishing to mention Gellionnen Chapel. This beautiful chapel appears to have a beautifully supportive bunch as well as Hayley says:-
"This wonderful group have been meeting every week via zoom and have been sending letters and messages and making phone calls. Really have helped me."
Jayne Lewis sent us this message:-
"There's so many wonderful people and businesses in Clydach that have been amazing through lockdown. Chris the Hermes courier, Sam n Bens the New Inn, the wonderful staff at the Coop but my vote goes to H R Jones the ironmongers who have been open throughout for all of us who are furloughed and finally had time to get all those DIY jobs done, not to mention the great selection of plants and veg. Always happy to help and always have time for a safe distance chat."
This is the second time that H R Jones have been on the cover of the Clydach Mag. Having been our valentines couple back in February 2019. At the very heart of Clydach.
Jo Coode also:-
"The butcher, Andrew Phillips has been delivering to all his elderly customers who are self isolating and keeping a good stock of meat in the shop. Co-op shop staff. HR Jones. Lloyd's Pharmacy"
Michael Diment somehow managed to take photographs of these people he wishes to thank. I'm not sure whether they were taken solely for the Clydach Mag or whether they knew it was for our cover. Would be a nice surprise when the magazine came through their door if not but here is what Michael said:-
"Many thanks to Sam'n'Bens for delivering free meals on a Tuesday to the vulnerable & shielding members of the community. Many thanks to all at Lloyd's Pharmacy & especially Kevin Gill out in the community delivering medication. We would like to thank our neighbour Kevin Craddock for helping us during 'shielding'. Kevin works in Co-op in Killay. He is always willing to bring shopping for us."
Rachel Tidmarsh echoed many, many people who wished to say a big thanks to Hermes driver Chris. Rachel put simply what many other had:-
"I'd have to say Chris Hermes driver. Service better than ever when he's busier than ever!"
Lockdown has been a real eye opener to all of us about the real value in what people do. How the country runs and how many invaluable people there are in their day-to-day jobs. The community of Clydach came together and will stay together.