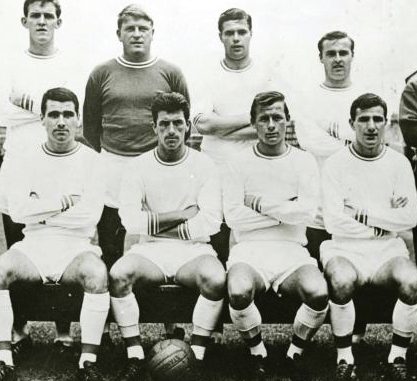 Where else better to start than with Mel Nurse?
Mel was a kid during World War ii and is Mr Swansea. I first wanted to try and get my head around how young footballers saw the world back then. "football was just football. There was no money in it." He says, I asked him whether you would see Manchester United scouts around "Manchester United? Who are they? No, you would just play football. Why would I want to go to Manchester United? Leave my friends and family?"
Football was simple back then. There were no millionaires, no football agents and no huge money to be made from players. In 1960 the maximum a footballer could earn was £20 a week, a fee that many clubs could afford to pay for their top earners and so there wasn't the allure of leaving for greater and better things.
At a young age, the 'Schoolboys' was a big thing. Representing Swansea or Wales but these were not kids being spoon-fed. "it is crazy when I come to think about it. I'd have to get a train from the station which has gone now, but was where the LC2 is now, get a train from there over to Blackpill and then one which went up to North Wales. As a kid, I'd do that and meet up with the rest of the Welsh schoolboys".
Mel couldn't remember whether he would have paid for this or not but assumed that he must have had expenses. It is hard to imagine a 14 year old budding footballer being sent on his way to North Wales on their own these days. I spoke with the Welsh FA about this who confirmed that it has obviously changed considerably.
There is a team dedicated solely to arranging transport for footballers representing Wales. This says something about how young footballers are 'wrapped up in cotton wool' these days but on this occasion, arguably no different to any other adolescent.
Although Mel was adamant that he would never have considered leaving, some did leave. John Charles among them, Mel remembers 'he went up to Leeds, there was a scout which they had down here Jack Pickard and he would send a few boys up every year but most of them would come straight back homesick."

Gary Sprake was another who went and survived in Leeds. Gary sadly passed away a few years back but his daughter kindly sent me some clippings of him speaking to a local newspaper about his early career:-
"My first school was Llansamlet Secondary Modern where Rugger was the school game. I moved to the school soccer team (at 14 years old, in goal of course) and a year later played for Swansea schoolboys against Newport. At 15 I had left school and became an apprentice fitter and turner at a local works Smith & Clark. I played for the football team among men and boys much older than I, which resulted in me being chosen for a Welsh Youth team against a Pembroke side. It was really a trial game although unknown to me, I was being watched at this time by Leeds scout Jack Pickard who eventually took me to Elland Road for a two week trial – and I signed as an Apprentice Professional."

How Jack Pickard was able to find and attract the likes of John Charles and Gary Sprake to Leeds under the noses of Swansea City F.C is difficult to comprehend. Football was becoming a business, the country seemed smaller and players were becoming assets to be poached. Leeds, with Sprake and Charles and others from across the country, dominated English football at this time. They were the first to fully invest in scouting and attracting the best young talent and they benefitted from it.
TIMES A CHANGING
We speak to a Welsh international from the 70s to see why he left Swansea s a kid. CLICK HERE