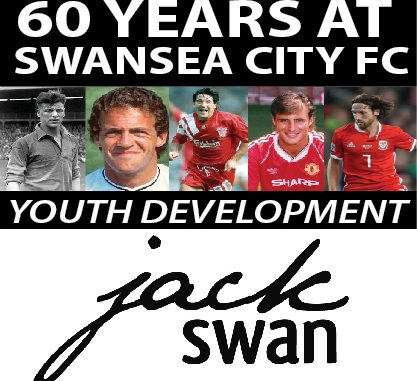 This year, I fancied a change and so we are doing feature issues looking back at how the club has changed (better and for worst) over the last sixty years.
We are going to speak with ex-players from this time and look at key subjects each issue. This one being youth development in Swansea. How successful has the region in and around Swansea been at producing top quality footballers over these years and whether those players have come through Swansea City ranks.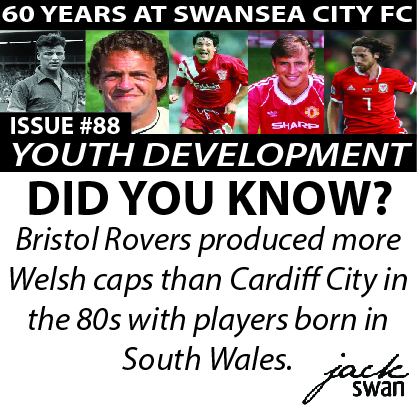 I wanted to give a breakdown of some figures (I love stats) before speaking to people to try and understand them.One way to look at the success of developing players is to look at the National team. For the sake of this, I've broken Wales into three catchment areas: Swansea, Cardiff and the Rest of Wales. Swansea being everything West of Bridgend, down to Fishguard but no further north than Cardigan. Cardiff being everything East of Brecon to the bridge but no further North than Brecon and then the rest.
In the 1960s, every player that first represented Wales was born here (very different to today). But less than 20% were from the Swansea region. Just over 30% from Cardiff and 50% the rest of Wales. On a map, 'the rest of Wales' is pretty big but as a population, is smaller than the other two. There is a pretty simple explanation to why so many players came from North Wales; rugby!
In 1960, Swansea RFC hosted and beat South Africa. The Welsh clubs in this day were known the World over. Rugby was the sport of South Wales. As a young boy growing up, rugby was the natural game to play, further North you'd only see the round ball on the playing fields.
The 70s saw South Wales catch up slightly but with some English and even a German born representative for Wales. Swansea produced nearly 25% of the newly capped Welsh internationals in the 70s, Cardiff 34%, Rest of Wales 27%. What we begin to see though is 'losses' at club level.
Of the Ten Swansea born internationals, only 6 came through Swansea ranks. Of the 14 from Cardiff only 6 started with the Bluebirds. Players like Ian Walsh and Peter Nicholas going to Crystal Palace at a young age. Carl Harris and Bryon Stevenson starting out at Leeds. Port Talbots Brian Flynn opting for neither Swansea nor Cardiff but Burnley for his youth development.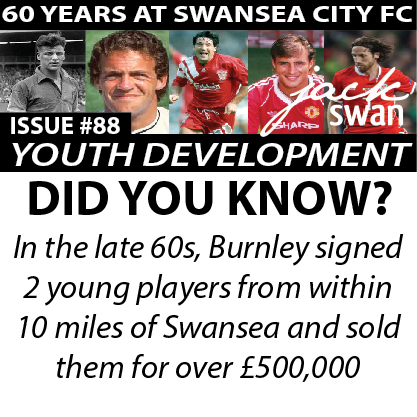 And as South Wales played more football and less rugby and produced more frequent talent, the exodus continued into the 80s and 90s.
The breeding ground of Swansea, Cardiff and the Rest of Wales all produced 12 new Welsh caps each in the 1980s. Only 6 started at Swansea and a shocking 3 at Cardiff. From Neath, Mark Bowen and Clayton Blackmoore went to Spurs and Manchester United respectively.
Bristol Rovers produced more Welsh caps than Cardiff City in the 80s with players born in South Wales.
The 90s is even worst reading. Half of the players (16) born in Wales who won their first cap in the 90s were from the Cardiff catchment area but only 3 came through their youth system. 8 were born in the Swansea area but the club were far better than their rivals at being able to keep and nurture them; 6 of these 8 came through the Swans system.
Ryan Giggs the most high-profile loss for Cardiff but also Chris Llewellyn and Craig Bellamy who both went to Norwich. Cardiff missed out on 13 future Welsh internationals and often to similar sized clubs. Swansea nabbing Jason Bowen and Steve Jenkins from the Cardiff Valleys. The Swans were unable to secure John Hartson though who left for Luton.
The start of the new millennium was a dark age for Swansea City producing young talent. Just four players born in the catchment area went on to win a cap over the whole decade and only two through the Swans system.
Joe Allen and Richard Duffy the two. Simon Davies and Marcus Margetson the two missed out on.
For Cardiff it was very much the same. 14 players from Cardiff won caps, only 5 through their system. Gareth Bale clearly the highest profile. By now English born players made up over 40% of all new internationals.
The last decade, with Premier League football, youth academies, there has been a very noticeable improvement. Over 60% of players who won their first cap in the last ten years were born outside of Wales. Not a great stat that but that's the way the cookie crumbles and we have all enjoyed seeing Wales in the Euros……
But of those born here, Swansea are doing very, very well. Nearly half (8) of the Welsh born players came from the Swansea region and SEVEN through the Swans youth system. For any club, being able to spot, nurture and develop quality players must be the aim.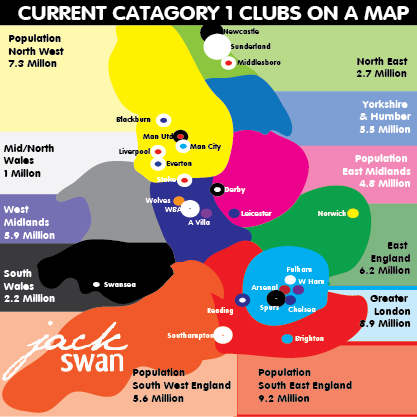 I'm going to speak to those involved through these years to try and understand where the club has gone wrong in the past and why things have changed. It is important to remember that producing quality players takes three things. Firstly, finding talent, secondly nurturing them and finally keeping hold of them.


1960s SIMPLE-ISH TIMES
We start in 1960. We speak with Mel Nurse to ask about young players in Swansea in the 60s.