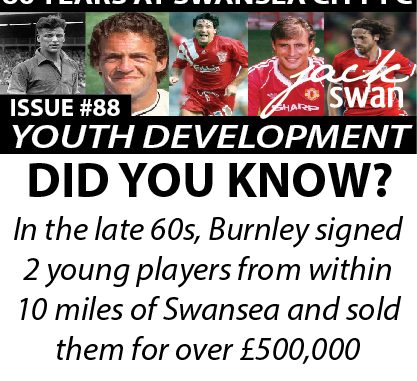 Other clubs followed, in 1970, Brian Flynn joined Burnley, signing a professional contract two years later. Port Talbot boy, he trained with Cardiff City after representing Neath and Welsh Schoolboys. But it was Burnley, not Cardiff nor Swansea who benefitted from him.
"I signed in a back street in the back of Burnley chief scouts' Dave Blackey's car in Edinburgh." Flynn remembers. "I was playing for Wales against Scotland schoolboys and in those days you could leave school at 15. My last official day in school was the Scotland game."
After three years, the Clarets sold him to Leeds for £175,000. Leighton James also went to Burnley from Loughor. The Clarets sold him to Derby for £310,000.
Burnley had made half a million pound in the early 70s from two players born within ten miles of Swansea. How and why did this happen?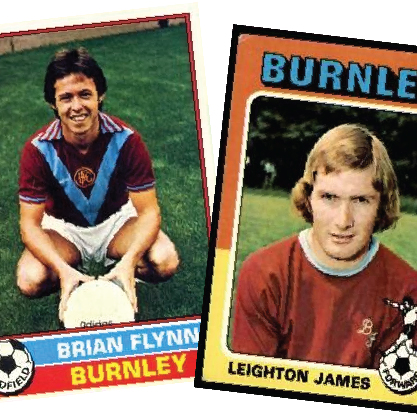 In 1970, Burnley were in the topflight (although got relegated that season) whilst Swansea had just been promoted to the third tier. Cardiff were in the second tier. We are before the days of youth agents but football was becoming big business.
The problem was that some clubs were in a financial position where they could invest into the long term future whilst others simply could only live for the now.
Signing the next big thing was a race for scouts across the country. The late 70's and early 80s saw new caps for local boys Donarto Nadiello, Ian Walsh, Steve Lovell and Terry Boyle but they had already left for English clubs.
I wanted to try and understand why these young players were leaving Swansea. Was it that Swansea were unaware of them and there is a scouting flaw or that players simply preferred to go elsewhere.
I caught up with Ex-Welsh international, Spurs and Swansea player Terry Boyle. "When I was 13 or 14, (Swansea manager) Harry Gregg came to my house wanting to sign me. At that time, you have that idea of chasing something. I was just loving my football. I was in Llanelli Gramma school and had a teacher there whose father was head of the selectors for Welsh Schoolboys and from Ebbw Vale where there was a scout from Spurs called Harold Joy. That was the link I had to Spurs and Spurs took my fancy; I was a young 14-year-old boy and obviously very impressionable. Spurs were in the top division, the Swans were in the lower leagues. I wanted to achieve something and the rest is history."
So at 15, Terry left his friends and family and moved to London. "It was a wrench, it wouldn't happen today with welfare issues. I travelled on my own on train and was in a boarding school for 18 months".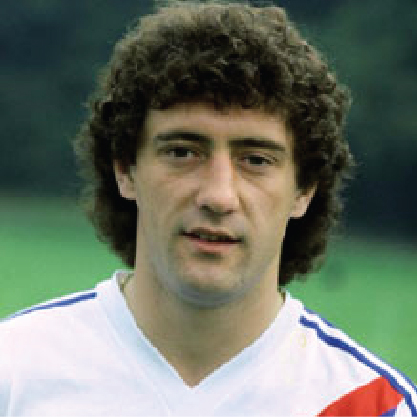 I'm curious whether Terry feels that he would have stayed in Swansea if there were the same facilities available then than there were today "I think without a doubt. I am sure that the thought process would have been a lot different. I just wanted to play football, I loved football."
Terry is now coaching in the academy at Hull where he tells me there is a good link between the Swans and them. I ask how the kids are different today as they were in the early 80s "It's totally different now, obviously social media and everything. Kids nowadays maybe aren't in love with football but the rewards from football. Back in my day, you were allocated jobs, discipline was street wise, now the environment is very sterile, you have to deal with kids totally differently."
We can't criticise the Swans for not finding and attempting to bring Terry into the Swansea system. Harry Gregg went to his house but Terry and his family must have felt that Swansea were unable to offer him the chances to fulfil their dream and he felt the need to go through the 'wrench' of leaving everyone he had ever known rather than signing for Swansea. That's a real eye opener there!

1980s: TOSHACK INFLUENCE?
In 1978 Swansea City appointed John Toshack as manager. We all know the story of the rise (and fall) but what we overlook is what happened with young footballers at this time.
Suddenly, Swansea City had ambition, young footballers could see top quality players in their own city.
In the 1982/83 season, all of these local players played in the top flight for Swansea City: Dudley Lewis (21), Chris Marustik, (22) Jeremy Charles, (24) Gary Richards (20), Huw Lake (19), James Loveridge (20), Chris Marustik (22), Colin Pascoe (18) Darran Gale (20) and Dean Saunders (19).
During the 1980s, the Swansea area produced more Welsh internationals than any other decade. Despite the mighty Welsh rugby team, 20,000 fans would cram into the Vetch on a Saturday and youngsters wanted to get on that pitch.
DARK AGES:
Things got a LOT worst. CLICK HERE TO SEE 90s and 00s dark ages