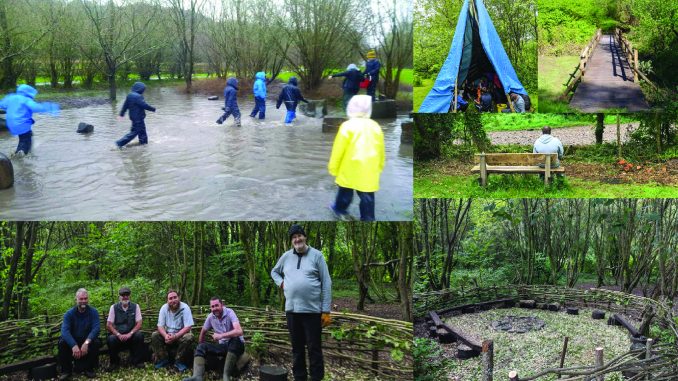 Those of us that live in the Pontardawe area are probably aware of the Riverside Centre, but many of us are possibly not aware of all of the projects that are undertaken there. We benefit from the wonderful way that the grounds have been maintained, as many a dog walker will testify and have noticed many improvements over the years but without knowing how or why. The Centre has just won an award for best 'community centre' in Wales, so I thought I'd invite manager Rob Clapham to say a little more about the centre.
Glantawe Riverside Park is a natural haven of peace and tranquility set in the beautiful Swansea valley mid point between sea and mountains. The park is managed by volunteers from a local charity and has been slowly developed over the past 10 years into the rolling parkland and sensitive protected environments just 10 minutes stroll from the centre of the village of Pontardawe.
The park, which has an annual footfall in excess of 10k consisting of dog walkers, families and cyclists, has seen a sharp increase in people using the park over the COVID19 period, something perhaps encouraged by the spell of hot weather and increased free time.
The Park is also home to Glantawe Outdoor Education Academy, a part of the charity that provides programmes for local Primary and Secondary Schools. We are in partnership with the nearest schools where we work with entire year groups to increase engagement with the natural environment while gaining fitness with valuable social and practical skills.
The organisation has been recognised for its valuable work, all costs for the upkeep of the park and programme delivery are raised by the charity, we are local people who work for the good of the community both for the present and the future.
Volunteers have been recently recognised as CVS Volunteer of the Year 2018, and by the Prime Minister in May for his Point of Light Award. More recently, as Community Centre of the Year 2020 by Cardiff Prestige Awards.