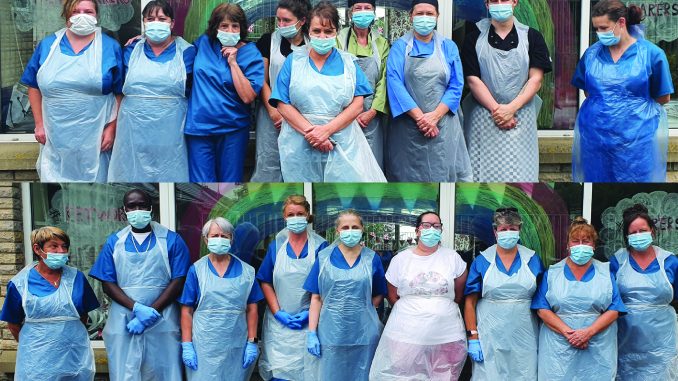 Amongst all the local 'heroes' during Lockdown the carers and staff of our Care/Nursing homes need particular praise and our thanks. Working and caring for our old and very vulnerable, never sure of what you're going to be confronted with from one day to the next, must be incredibly stressful. I asked Dan Y Bryn to give us a feeling of what it's been like working through the lockdown and I'm glad they responded. I would like to take this opportunity to thank their staff and all of the staff in care/nursing homes throughout the locality for the dedication and courage that they have shown throughout the pandemic. Thankyou. Here is their story:-
Firstly, Pobl would like to thank the hard work and dedication of the staff at Dan Y Bryn, from carers, to the kitchen staff, domestic staff, facilities staff, laundry staff and management. Whom have worked tremendously hard throughout the unprecedented times of the Covid-19 pandemic. Welcoming in re-deployed staff from other sectors, within Pobl to increase capacity of staff in the care sector in this extremely difficult time.
Staff here at Dan Y Bryn have come across some extremely troubling times, not knowing the fate of the residents, themselves or their families. Knowing that Covid-19 can be fatal and the risks of bringing it into Dan Y Bryn or their family home were extremely high. However, the versatility and determination of the staff has kept the virus out and everyone's spirts high.
Staff have fully appreciated what the residents and their families have gone through, not being able to visit and the length of time since loved ones have been unable to see each other. With support to combat this, a special thank you needs to go to Wendy Jones a daughter of one of the residents who shaved her head to raise money which benefited residents and staff. The government kindly loaned tablets so that contact would not stop, Skype and WhatsApp was introduced to residents.
Celebratory times have been difficult for residents and families to overcome this. Staff have decorated the communal unit areas, alongside kitchen staff who have made special effort baking birthday cakes and making tea parties to celebrate residents' birthdays one of which has turned 102. This has spilled into other occasions such as VE day when flags flew across the building song sheets provided for sing songs. Celebrating Tom Jones 80th birthday with music, posters and quizzes were handed out to residents.
Support from the community and local businesses have been exceptional, Swansea university providing face shields, along with the royal mint. Swansea valley Cardiac Support group alongside Wendy March and David Mears who have all provided face masks, scrub bags, cards and mask adaptors. Cards, Easter eggs, painted rainbows were provided by LLangiwg School. Residents received letters from pen pal in the community. Admiral providing hampers which was a lovely treat for all.
Finally, a big thanks you to Cymru Coaches and Villa Motors who showed their support and gratitude to Dan Y Bryn, clapping for the NHS and Carers who parked outside Dan Y Bryn on Thursday evenings.
Dan y Bryn would like to thank all involved, in keeping the residents and staff, safe and well throughout this troubling time. Including Vince for his patience whilst we got this too him in what is an extremely busy time.