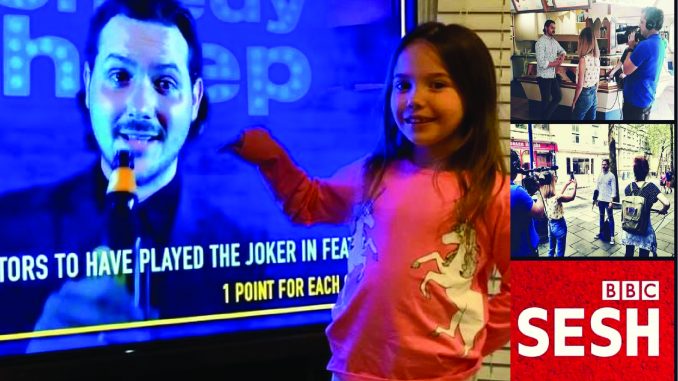 I can say with a degree of certainty that Ignacio Lopez is the most successful Spanish born comedian Pontardawe has ever produced. Currently living in Cardiff, I spoke with Ignacio to talk about his time in Ponty and how he and other professional artists are finding life during the pandemic.
You were born in Spain, how did you end up in Pontardawe?
Yeah, born in Majorca. I came over to Pontardawe when I was young though. Went to Llangiwg Primary School and then to Cwmtawe. I have been back and forth my whole life.
Did you have any links to Pontardawe before then?
My mother is from Pontardawe. She had lived there her whole life, so I knew about it growing up in Spain. My gran lived there too, as did my Grandfather who was a big part of Pontardawe golf club. So yeah, I had big links to ponty. It was my first reference point for Wales.
Growing up, what was Pontardawe like?
The tough part was moving from beautiful sunny Majorca. A joke I make on stage is when coming to Pontardawe, I could not understand why it was constantly raining. I remember playing football down the rec which was more like swimming. Cycling was closer to being on a peddle boat.
I go back (to ponty) to visit as much as I can, I obviously cant at the moment with Covid-19. I learned how to drink in ponty, at the Gwachel and the Other Place. Not sure whether I should say this or not but I used to drop into the Other Place before I was 18. I remember going to Andy and asking him if I could book the back room for an 18th birthday party. He said, 'whose party?' and I said 'mine'. He went nuts, I'd been drinking there for a few months. He banned me for a couple of weeks.
COMEDY
You have been doing stand up comedy since 2010 all over Europe.
That is right. I did my first gig in The Garage in Swansea at a weekly comedy night. After that, the biggest gig in the first year I had was the Pontardawe Art Centre. We popped over the street afterwards to the Pink Geranium and everyone said the drinkers in the pub were funnier than the gig. Since then, I went full time about 5 years ago, gigged in Norway, Germany, Spain. Pretty much all in English and mainly to ex-pacts although I have done the odd gig in Spanish and the odd one in Welsh too.
How does humour change place to place?
I think specific jokes can change. You can tell a different type of humour place to place. People from Ponty laugh at different jokes to people in Cardiff. On the most part, the Brits like to laugh at themselves. They are willing to have the mick taken out of them, which is great for me as I like taking the mick out of people. I think as long as you take the mick out of yourself too then people are OK.
I don't hold off on swearing, I don't swear much in real life but I'm not against it. You have to be aware of your audience too, if there are kids then I don't swear at all. It is important to do things in a friendly way, I like to do things in the same way as you would with a friend. People say that you can't say anything anymore, I say what I want but in a friendly way.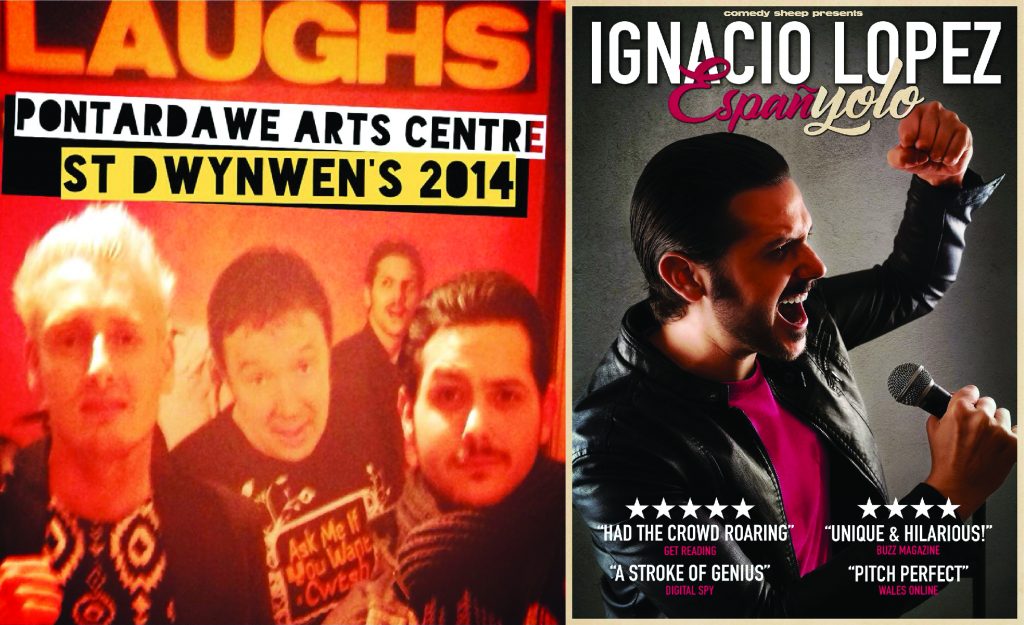 LOCKDOWN
I enjoyed your pub quizzes during lockdown. How did that come about?
Before the country went into lockdown, they were cancelling gigs and so I could see what was coming. When I realised that I wouldn't be working, I wanted to keep people entertained. Before I realised how to do the comedy online I started the quiz and have been doing it weekly since. It will be week 31 this Saturday. It has been a nice way to stay in touch with people. I had been doing regular shows in Swansea, Newport and Cardiff. The amount of people who play it from all over the UK has been amazing. It has been a nice way for me to stay in touch with friends and family in Pontardawe. Nothing too serious. Nobody gets that annoyed.
IMPACT
Obviously you know many people in the art and culture industry. How bad is everything right now with Covid-19?
It is a disaster. We are all just waiting. Freelances especially, comedians, magicians every kind of art form, ballet, I don't know any ballerinas, but we are all self-employed. We are waiting to see about funding from the Art Council, the last 6 months we have all been working for no money.
I'm fortunate that I have a good fanbase donating money. Tipping me with things like the quiz. We have cut down our living expenses the best that we can, so we live as cheaply as possible. A lot of artists are in the same boat. It is really dark right now, there are not many other jobs either to top up income. The hospitality industry is generally where we would get these jobs but obviously, they are affected too. The first job I ever had was as a glass collector in the Gwachel, these jobs do not currently exist.

Could it have a long-term effect on the arts?
Definitely. Venuses will close even when Covid is over. The smaller venues are the ones which will be most affected, and these are the grassroots places for musicians and entertainers. Big art companies will have government funding, but it will affect new acts coming through. The places which give an opportunity to perform in the first place. Without these places, people are not going to get as funny or as good. The Art Council needs to look at that side of the industry.
LONG TERM
Would you get nervous having not played a gig for some time?
I think it is similar to sport. You can be Premier League footballer or you can be Sunday league but you have to be playing all the time. I've gone from gigging live 5 times a week to once or twice a month. That practice makes me sharp. You might not be nervous but maybe a bit rusty and it does affect the quality. I was in Liverpool a few weeks back obviously before their lockdown. I gigged in the laughter house, it was the first gig I had done in a while and you do feel a bit ropy especially at the start.
How are you connecting with people at the moment?
I've been running a comedy club from my living room. On facebook, my youtube channel and on zoom as well, which is great because they can see me and I can see them. It is fun being heckled on zoom, but people don't heckle as much when you can see their house in the back ground. People do get involved more than in a comedy club though but most of the people are my fans, so they know me. When it is a stranger in a gig then you obviously don't have that familiarity.
PONTARDAWE
Is there a better venue in the world than Pontardawe Art Centre?
I think that the venue and the shows are completely reliant on the audience and there is no better than Pontardawe. If you cram in a bunch of people into a room who are looking for a laugh, which people in ponty are then you are going to have a great show.
Favourite thing about Pontardawe?
I think Pontardawe is quite a cool place. Herbert Street, the mix of people and businesses is a perfect example of what ponty is like. All you need in one place, there were new businesses popping up before lockdown. The people are just super friendly. Although, when people used to drop out of mamas at 2am they were not always quite as friendly……. but generally a great community.
One thing that you would change?
I have no control over it but the weather. I would maybe get rid of some of the shopping trolley in the canals too.
What is different about Pontardawe?
Ponty is classed as a town but it feels like a village. Lots of people have moved out but people always say hello to you. Where I live in Cardiff, I don't know the neighbours, in ponty I think people are a lot closer linked.
See last moths Ponty People article here:- Ponty People with Bob Williams