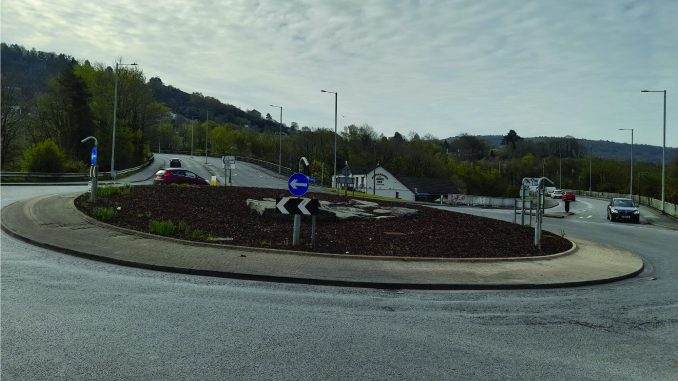 There are over 2,000 Greggs (that is the bakers not the person) in the UK. Nearly 4,000 Tesco's, 800 Lidl stores, Over 500 home bargains and 700 Lloyds bank branches. These shops are within around 1,500 Towns & Cities in the UK. It is no wonder that our High Streets are beginning to look the same.
There has been a clear erosion of identity in our settlements over the last thirty years. But all is OK because we still have……. THE ROUNDABOUT!!
Over the winter we saw Welsh Water dig up the 'Gwachel Roundabout' to fix some plumbing issues. The roundabout is at the heart of Pontardawe. For many, it is their first impression of our lovely Town and we think that this gives us an opportunity to make a statement! We understand that the current roundabout is simply a temporary design and the local authority (NPTC) will liaise with Dwr Cymru to decide on our 'end product'.
In Pontardawe, we have some incredibly artistic people within the Town. We are blessed with modern history and historians who know our heritage better than anyone. We ask these people to come forward with a Pontardawe designed roundabout. Something which celebrates our Town. A roundabout to be proud of!
We could have a mini-St Peters Church on it, a dedication to Art in the Valley or to the Art Centre. We could have a tribute to the Gilbertson family, The NHS, our time in lockdown or to My Green Valley. Anything which represents the Town, designed by the people in this town… Pontardawe could boast a future roundabout of the year!
UK Roundabout Appreciation Society
The UK Roundabout Appreciation Society (UKRAS) pick their chosen roundabout of the year each year. This attracts press coverage from the BBC to the national newspapers. I managed to speak with Chairman of UKRAS Kevin Beresford about what we, in Pontardawe would need to achieve to win roundabout of the year.

"Obviously the 1st job of a roundabout has to be that it is functional for the traffic on it. So that it can be manoeuvred in an easy manor, safely and efficiently. The aesthetic quality is obviously then what we are looking for. A roundabout can reflect what is going on around it. The culture, the industry, the history of a Town. In Staffordshire there is a roundabout with a statue of a miner holding a pickaxe reflecting the coal mining industry."
"We always say that a roundabout offers a blank canvas, which you can put anything onto. There is nothing more expressive."
"In Yorkshire there is a working windmill on a roundabout, one which produces flour which you can purchase. It just shows that anything can go on it. We see a roundabout as an oasis on a sea of tarmac."
How to win?
I ask for an idea on how we can get the very best roundabout here "Maybe you could have a local competition going to design the roundabout and see how creative people can be. We could then have it in as a future contestant as roundabout of the year." To give some inspiration, the photos on the next page show past contenders. Each one has become a symbol of their area.ar depicting the best British roundabouts.
So come on people of Pontardawe! Come forward with a design and then let's encourage the Town and county council to back our march for Roundabout of the year! Send your ideas and designs into local@pontymag.wales