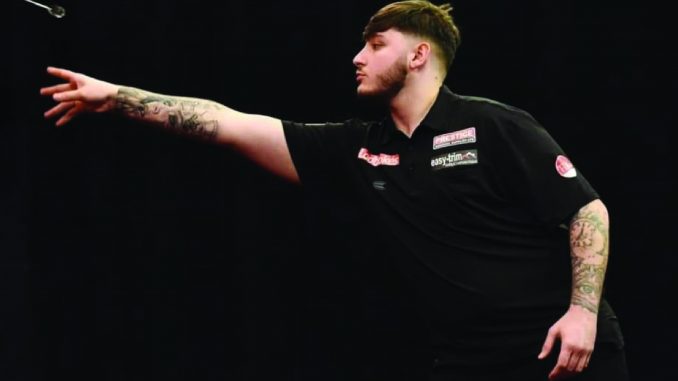 At 19 years of age, this months 'Ponty People' is our youngest yet. Lewy (Lewis) Williams is very well known in the Town, especially on the local dart circuit. He has recently won a place on the professional circuit, beating some of the very top names in World darts. I spoke with Lewy about his darts and his time here in Pontardawe:-
When was the first time that you set foot in Pontardawe?
Just before I started Cwmtawe. So I am guessing eleven years old or around that. I lived in Morriston before that with my Mother, my Father and my brother. My Dads is from Ponty, my Grandparents used to own the 6 J's.
What was it like growing up in Pontardawe?
Brilliant. It is a really close community, I have a lot of good friends there. A great area to be brough up, everything you need. It is where I started playing darts, where it all began. I started off playing in the Castle with my dad. I played for Pink as well.
DARTS IN PONTARDAWE
How did you get into darts?
My dad has always been into it and so I have watched it all my life. Watching it on tv and then I used to play darts it when the footy was called off. I played football for Ponty, I was on Cardiff Academies book too before darts to over.
How did you enjoy the pub circuit in Ponty?
Sound. Everyone knows everyone. Everyone was welcoming with open arms, I was 13 or 14 and I was not really allowed in pubs at that age but everyone were really supportive. We won the local league when I was 15. The Thursday league, Ponty and district, the team won the league and I won the individual singles league.
Am I right in thinking that there were some who were not so keen on a youngster playing in the league?
Yeah, there were a coupe. I think there was just one actually; The Farmers in Clydach. They didn't want youngsters there after 9. They were fine at first but when they could see how well we were playing then they seemed to change their minds. The first time I was there, we won a pairs tournament and after that they said I couldn't play there anymore.
BEST DART PLAYER IN PONTARDAWE?
Who are the best player asides from yourself in the area?
There are a lot of good darters in and around Pontardawe. I'd say that Geraint Davies and Nathan Burdett are probably the best though. They Both played at a good standard, and it was those two who brought me on and into other competitions. The two of them ran their own league and it is still the best league which I have played in. They brought me into it, they coaching me up and I ended up winning the league.
Since then you have gone pro. How long do you train and do you have a plan b?
I train for around 3 hours a day. It is like a normal job and it's like anything, you have to put the work in. Going pro means less going out, more practicing but you have to make a few sacrifices it. I feel like it is getting better and better. I regularly practice with Nathan Aspinall who is 6th in the World and that brings you on. My concentration is on darts and getting better at it. I am a qualified barber though, level 2 and 3, if things were to happen it is important that you have something to fall back on.
PDC TOUR
You have made the PDC tour, explain to us what this is and means?
Essentially it is the best 128 darters in the world competing regularly on a circuit. I was fortunate enough to get onto it. Every year there is a tournament with 500 players, who are all trying to get 12 tour card places. I was one of those twelve which got on and now I play on the professional circuit. All 128 of us will play over 4 days, say a Saturday to Tuesday and every day the winner will get £10,000. It started really well for me, beating Michael van Gerwen on the first day. I was on the Front cover of BBC sports, which was a bit overwhelming.
How have you found the nerves and do you think you will be nervous when fans return?
I don't really suffer with nerves. Its more adrenaline for me. I beat Michael Van Gerwen behind closed doors. I played an open last year and I beat the grand slam champion Jose de Sousa in front of about 200 people. Suppose that I am used to the fans, they drive me on. I don't get nervous that much. It is a shame that we haven't got the fans in at the moment but it is the same for everyone. I am just grateful to be one of the professional players and it will be nice when you can get fans back.
DART GOAL
What is your goal?
Just to keep the tour card at the moment and to qualify for a few majors. At the moment World Championship is my aim. I am on the tor for the next two years and so I will be one of the 128 professionals in the world and that's an opportunity for me. Everyone on that tour has similar talent, but the top 32 players are the ones that are more consistency. Everyone has the talent but is about learning to do it every game and then the best players show up at the major tournaments. I am one of three players who are 19 and on the tour, the rest are older. I would like to climb into the top 16.
What is your walk-on music?
Ruby, by Kaiser Chiefs, but instead of 'Ruby, Ruby, Ruby, Ruby' it is 'Lewy, Lewy, Lewy, Lewy'. My nickname is the Prince of Wales.
Favourite thing about ponty?
How close everyone is. You walk down Herbert Street and end up chatting for half an hour. Everything is there, there is hardly any trouble, everyone good.
Thing that you would change?
Maybe more to do with darts but it is a brilliant place.