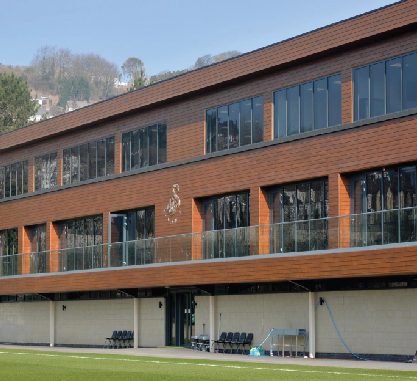 However, there seems a genuine fear that our Golden era of football development could be ending abruptly. Chairman Trevor Birch recently said "We are in a small handful of clubs outside the Premier League that run a category one because it is very, very expensive to run,".
"You have to balance putting your money into that as opposed to putting into the first team in terms of player wages.
Whilst the Swans appear to be considering downgrading from a Cat1 to a Cat3, Cardiff are looking at the prospect of improving their academy from Cat 2 to Cat 1. Cardiff manager Neil Harris said "It's a huge investment. Ultimately what's best for our club to get players in the academy in the first team? But you have to balance off the investment, have you got the right structure within the club? The right amount of coaches? The right facilities to train to have bigger groups and more staff?
"It's not just a simple decision. It does take time. We are in the process with the board and the academy to make decisions like that. But getting the coaching set-up correct, as we have, is a huge step forward for us."
The Elite Player Performance Programme (EPPP) was introduced in 2011 to replace the previous youth development system, where there were just two levels of youth development centres across all clubs. These were Academies and Centres of Excellence, and the difference between them was the minimum level of facilities required at each.

But instead of these two levels, there is now four levels of youth development centre under EPPP. At the top is Category One academies, which Swansea have enjoyed since 2016; the so-called "Super Academy." Category One academies which set-up accommodation and educational facilities or partnerships, like the Swans have are exempt from the 90 minute rule (the restriction on the recruitment radius) making it easier for elite clubs (like Swansea) to pool talent from across the country.
At the next level, Category Two academies are roughly equivalent to academies under the old system, with Category Three academies similar to existing Centres of Excellence. Below these will be a new level, Category Four, limited only to registering young players between the ages 16–18. They will pick up released players.
Supposedly, the Swans spend around £5 million a year on the academy which could drop to under £1 million if we dropped to a Cat3 (there would be little saving in Cat2). This is effectively returning, willingly and knowingly to the 90s and 00s where player development in Swansea was basically a kitman working with what the PE teachers would recommend (probably slightly better but not likely to appeal to many).
Ben Cabango, born in Cardiff, opted for the Swans academy to further his career. Before kicking a first team ball he was linked with a £2.5 million move to Germany. There is very little doubt that if Swans had been a Cat3 then he would have moved elsewhere. Dan James likewise.
Terry Boyle would have stayed in Swansea in the late 70s and Craig Bellamy could have avoided crying himself to sleep every night in the early 90s if Swansea had already had a top academy. Simon Davies could have travelled from Haverffordwest to Swansea by train. Young kids don't want to leave home any more today than Mel Nurse in the 60s. The potential has been shown, the failure proven for the fifty years previously.
Swansea haven't 'lost' anyone of any note in recent years. All local players born in and around Swansea who have gone on to become Internationals or top flight players have come through the Swansea system. Whether still playing for Swansea or sold for a profit.
As well as this, Swansea have been able to attract the likes of Dan James and Ben Cabango from outside of the Swansea area. If players are sold to 'balance the books' then fans understand but to knowingly deprive the club of future talent in the long term should not be forgiven and makes no sense!
Figures on the academy
David Sullivan looked at the figures within Birmingham in the early 90s and decided that a youth system was bad for business. I want to do the same for Swansea to try and work out what would be the 'break even' figure for the next decade.
First we need some simple Maths and numbers:

*We need to note at this stage that this is JUST Premier League players. The Championship spent £206 million on players in 19/20 transfer windows. On average £8.6 million per club. The average value of the 320 British players in the Championship is £1.875 million. Based on UK population, a championship player is produced for every population of 207,500.

Gareth Bale plays his trade in La Liga, Sancho in Germany, fees are paid from clubs in League One and Two. 
So if a Premier League player is worth about £17 million and it costs the academy £50 million to run for the next ten years then we need to sell 3 Premier League players over the next decade to make a profit.  
On average, a population of 881,000 will produce the Premier League players required to pay the magical £50 million to keep the academy running over the next decade.
Immediate Surroundings and West.
County of Swansea 246,000
County of Carmarthenshire 187,000
County of Neath Port Talbot 142,000
County of Pembrokeshire 125,000
Total 700,000
Players from here want to come to Swansea. If there is a Cat1 system, like we currently have then these players are ours! End of.  No need for kids to leave home.
Bridgend 144,000 : Swansea  38 minutes. Nearest next Cat1 club: WBA Over 2 hours
Rhondda 240,000:Swansea under 1 hour. Nearest next Cat1 club: WBA Over 2 hours
Cardiff 364,000;Swansea under 1 hour. Nearest next Cat1 club. WBA Over 2 hours
Newport 153,000:Swansea 1 hour. Nearest next Cat 1 club WBA 1 hour 57 minutes
Vale of Glamorgan 132,000.Swansea 50 minutes. Nearest Next Cat 1 Club WBA. Over 2 hours
There are over 2.2 million people in South Wales as a whole. Bristol has a population of over half a million and Swansea is its nearest Cat1 club.
Swansea are in pole position to make five, six, seven, eight or even more Premier League players over the next decade. Plus MORE Championship players to 'top up'.  It has worked, it previously failed, even contemplating returning to the dark ages is mental!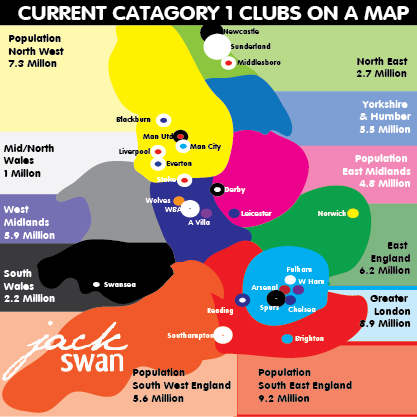 You can see quite clearly from this map why the midland clubs struggle with their academies. The competition is tough with those clubs around them but then the power of Manchester United, Man City and Liverpool is close. The very best players can and have moved from these clubs to the more established ones without needing to leave home.
You can also see quite clearly why Southampton are so successful. No competition West of them at all. A huge population within an hour or so drive.
The reputation is vital in attracting and keeping these players. Youngsters know that they can go to Southampton and have a great chance of reaching their potential. It is trialled and tested, players playing in the topflight right now because of it.
Swansea are developing that relationship. It has begun. Players are choosing Swansea because they see Ben Davies, Dan James, Ollie McBurnie playing top flight football and Swansea have shown that they are dedicated to producing young talent.
Leeds still makes the top ten for producing Premier League players despite not being in the topflight and not having a Cat1 academy. Their reputation is there for over 60 years, ours is merely a few years.
We have to ensure that this stays here and at Cat1. Any downgrade will be a signal to future talent to look elsewhere.
We will be able to save money short term by scrapping it but financially, long-term it will be a bad business call as well as a bad call for the football club and young footballers and their families in Swansea.
We need to remember that AMBITION IS CRITICAL!
£250 MILLION
The next fifty years of the academy would cost this sum at todays money. At todays money, it would take 18 top flight players to fund this.
Were there 18 top flight footballers that came from here in the previous 50?Simon Davies, Mark Delaney, Joe Allen, Dai Davies, John Hartson, Robbie James, Dean Saunders, Leighton James, Ben Davies, Brian Flynn, Clayton Blackmoore, Mark Bowen, Chris Coleman, Andy Melville and Ian Walsh.
All of these players (plus others) played over 100 games in the top flight. Market value around the £17.1 million Premier League average. All of these players are from the 'safe zone', the 700,000 population which Swansea could easily have a monopoly of players who don't want to leave their friends and family at 14.
And remember that there almost certainly would have been even more top quality players in the 90s and 00s if there had of been the type of coaches we now have.
Would Ben Davies of been a Premiership footballer if he'd have been born ten years earlier? Either being trained by a 'kitman' at Swansea or having to travel to Chepstow to meet Norwich. He may well have not.
If we were to increase this into the whole South Wales zone where we are now taking the likes of Cabango then we enter a crazy reality of being able to add Ryan Giggs and Gareth Bale to this list alongside many others.This has to be the Swans long-term plan.