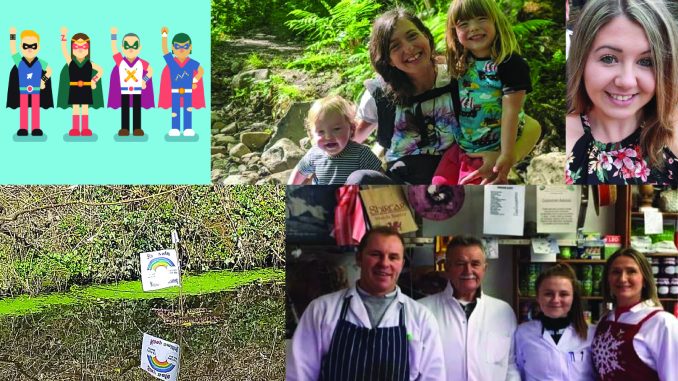 Lockdown changed life here in Pontardawe but it effected everyone differently. We wanted to speak with local residents and ask them how it was for them, who helped them through it and what they are missing most. Here is your lockdown stories-
What has lockdown meant to you in Pontardawe?
Nia Jenkins: To me, & apparently many others with social anxiety, it's actually resulted in improved mental health wellbeing.
Not having to 'psych-up' to going out, not having to feel guilty for wanting to stay away from crowds. It's been a peaceful time.
On the other hand, I have family members who's anxiety has gone through the roof.
Psychology/ risk aversion is a weird thing
Louise Ashill: I am still transforming my garden. I wouldn't have been able to if I was still working.
Philip Hopkin: On the whole, if your content with your own council it hasn't been to bad. On the other hand if you are alone, then it could drive you over the edge, I have missed a pint down the road and the caric that goes along with it but technology has been wonderful for keeping in touch. I'm happy that in Wales we seem to have had a more moderate approach to dealing this virus and have by enlarge followed the rules. Honestly I'm looking forward to being able to travel, (by car) again because my son lives over Offas Dyke and three months is a long time not to see him and for him to catch up with me, his sister and his mother too…
Rachy Clayton: Being a family unit again after 6 years in pubs and appreciating nature more on my daily excersise.
What are you missing most whilst in isolation?
Debbie Coughlan: Meeting up with friends in the ivy bush beer garden in the sunshine
Louise Parfitt: Seeing my lovely mother in law in Alltwen, taking my son to Harry's Park, stopping to talk to my friends and neighbours while walking through the village.
Things that I am grateful for far outweigh any negatives though.
I turn 40 next week, and while a birthday in isolation isnt ideal, getting older is a privilege denied to many so I am grateful to be alive
Julie Bowden: My grandsons, cant wait to cuddle them and spoil them rotten. My family and friends as this lockdown just goes to show who matters in your life and not what you have, not that material things ever mattered to me before anyway.
Liz Lewis: Grandchildren and they parents, the big kids.
Cathy Davies: Seeing my niece and nephew and meeting up with my friends and my darts girls in the pub and shopping without feeling anxious and stressed out x
Mags Perry: My children.
Monique Mac: Meeting up with friends x
Sara Jayne Thomas: Seeing my mum x
Mary Ann Jones: Getting my shopping done in 15 mins ( in and out i was not one to stop and talk to anyone as i do not have the time)these days i am queuing for 40 mins just to touch something contaminated or not contaminated ( who knows who cares) that's 25 mins off my life gone and please do not tell me at least i get to live ffs, we are existing ,very few actually "live" .
Someone you want to thank for their help during lockdown.

Melanie Humphreys wanted to give a special mention to Gemma Maguire.
"Gemma maguire goes above and beyond in Pontardawe.
She is a volunteer in Ponty she also set up a Facebook page updating everybody on take aways and deliveries pontardawe delivery services there's also a piece about what she does on Neath port talbot cvs page
Also Honda Rees and Anne Luke's they have been busy making scrubs for the NHS"
Laura Santiago got in touch with us to:-
"I believe a special thank you and mention should go to Sabina at Amore Mio Clothing for her amazing voluntary efforts in supporting key workers."
By the 22nd May, Sabina had made over 100 masks and almost 400 headbands for frontline workers, with more orders coming in.
Sabina herself has thanked the community "I wanted to take a moment to thank each and every one of you who has supported me and in turn the frontlines during this time."
Sarah Young wanted to give a big shout-out too:-
"I would like to nominate Bleddyn Howells the butcher as the only butcher able trade during these unprecedented times, he has ensured that not only Pontardawe but other parts of the swansea Valley have had meat.
His social distancing measures he has put in place are fantastic, it makes you feel safe.
The hours he has worked over this time is unbelievable and he should be recognised for this."
And I would like to give recognition to all the kids (and adults) who have lit up their windows with beautiful rainbows. It has helped lift my mood whenever I see one. I saw a stay-safe boat on the canal and managed to track down the creators.
"My daughter Lily-Rose is part of Bryncoch cubs group. They are setting weekly challenges for the cubs during lockdown and making a raft was one of them. Lily-Rose made the raft using the skills she had learnt in cubs prior to lockdown and a little guidance from her Step-Dad. Her and her Brother Milo wanted to attach a positive message to it for everyone to see as they walked past on the canal path."