Girls football in the Swansea Valley – Sign up Today
To coincide with Euro 2022, we spoke with a few of our local girl's football teams. Girls football in the Swansea valley, like everywhere else, is increasing in popularity and participation year on year. All of our local clubs are really welcoming and looking for new girls to join. I spoke with players and coaches to see the benefits of playing football.
I started by asking Aled Jones who is the Under 8's Girls Coach at Rhos Football Club to explain the benefits to me:-
"As a coach of the U8's Girls team, I was asked to write an article about the benefits of girls football. I thought about telling readers about how much fun the girls have each week, the exercise, the friends they make, and the confidence and skills that they gain and learn from playing the game.  But then I thought, who better to tell you than one of the players themselves – my daughter:"
Ffion – U8's Girls Football player
Aled "What was it like at your first training session?"
Ffion "A bit scared, bit nervous, but a bit excited too."
Aled "Could you play football before?"
Ffion "I could kick the ball a bit, but I couldn't do many tricks. But I've got better every week. There is only one thing I still can't do – keepie-uppies."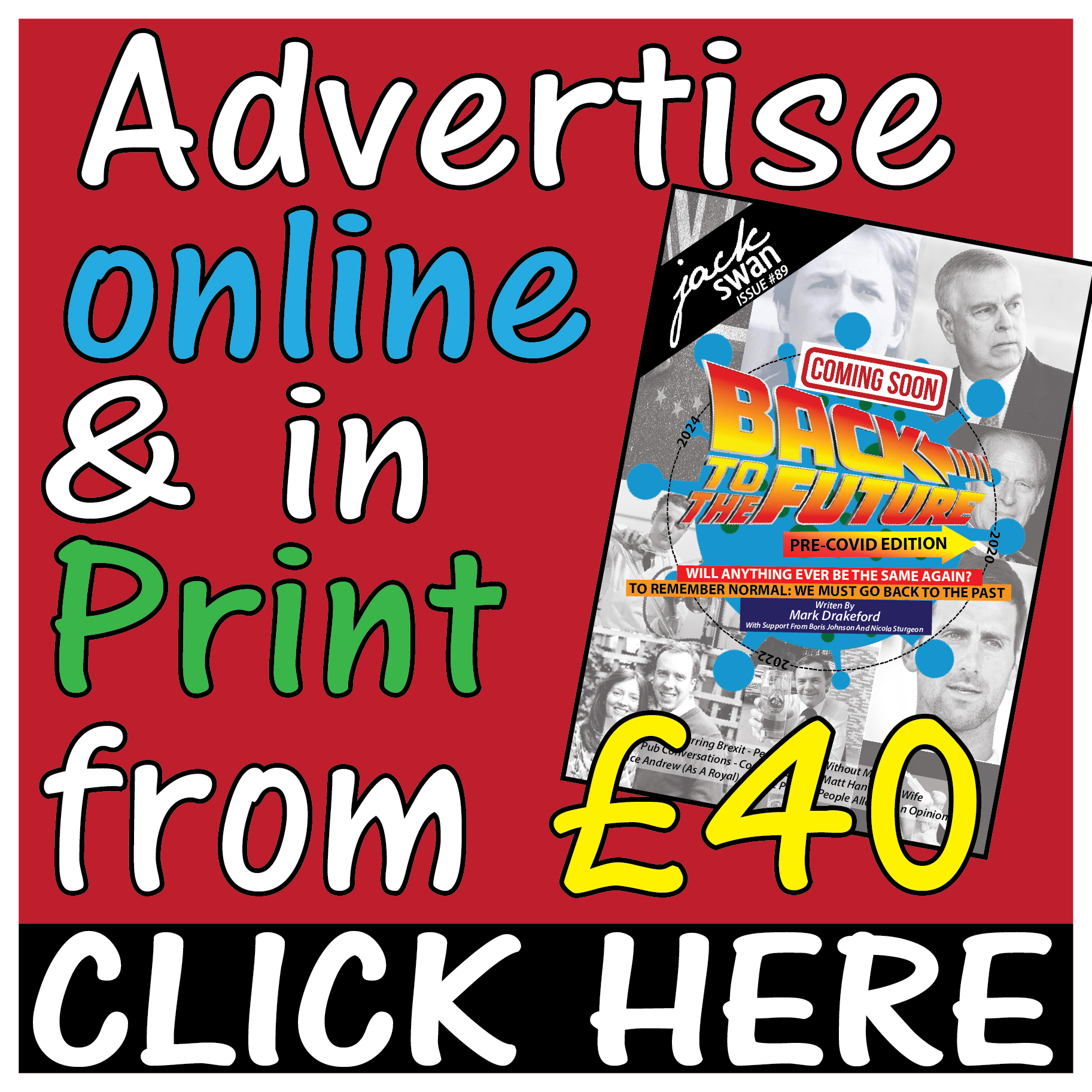 Aled "Keep practicing. Have you made lots of friends on the team?"
Ffion "Yes. All the girls are friendly. Some of them are now my besties. We even make friends with the girls from the other teams sometimes."
Aled "Why do you think playing football is good?"
Ffion "Well… it's helped me because I was shy before, but now I'm a bit more brave, and I love playing."
Aled "Would you encourage other girls to play football?"
Ffion "Yes – because it's fun, it's good. We play games. My favourite games are 'Eggs' and 'Music Ball'. It's amazing!"
Aled "Sounds good! Do you play many actual games?"
Ffion "We play loads of football games which we enjoy. We play on Sundays and practice on a Monday, sometimes a Wednesday. We've even played in football festivals and I've won loads of medals."
Aled "Finally, what are the coaches like?"
Ffion "Nice. They are friendly. They make us run a lot and make us tired. We have lots of laughs though."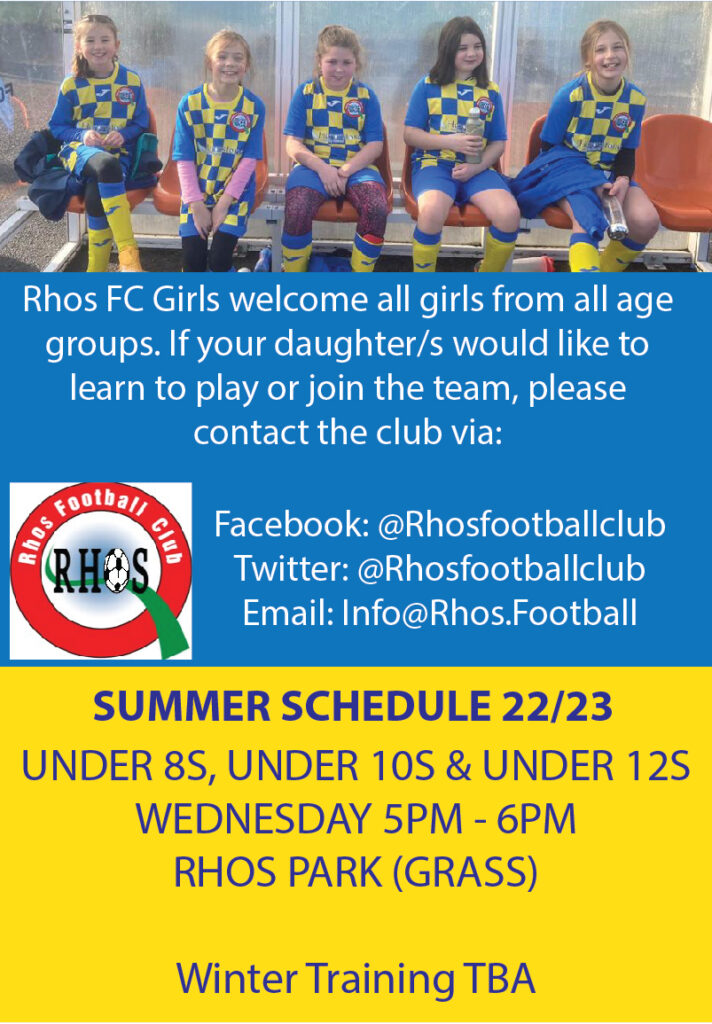 Clydach FC seeing boost in girls playing football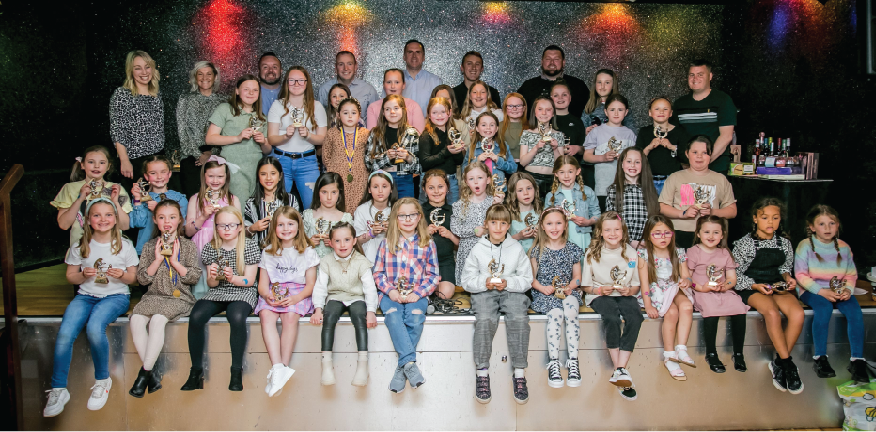 Clydach FC, like Rhos, are seeing more and more girls playing the game as Steve Thompson from the club explains "We first started a girls' team in August 2019, with four girls. We started playing games in the West Wales Women's and Girls' League in November and only played a few months before the first Covid lockdown. We've grown rapidly since then and have nearly 70 girls by now."
"Last season, we fielded teams from under-7s to under-11s, and in this coming season we hope to start new under-6 and under-7 teams too, with our oldest team now in the junior section of the league at under-12s. Teams have gone from strength to strength and are all very competitive each Sunday."
"We were also very pleased in the Spring to be made an official provider of the Football Association of Wales' Huddle scheme which provides fun football sessions to girls who have never played before. These are meant to provide an easy way into football and to help girls fall in love with the beautiful game."
"We ran a block of sessions in the Spring and will be running another during the coming Summer holidays, at 5:30pm from Wednesday 27 July until Wednesday 31 August at Coedgwilym Park. Training sessions for our teams also take place at Coedgwilym Park on a Wednesday evening and will resume in August."
"We're keen to introduce the girls to different aspects of the game and so have attended Wales Women's international games at Parc y Strade, Llanelli. We took 64 girls and parents to watch Wales play against Greece in November 2021 and over 100 to watch France in April this year. Our under-12s team were also fortunate enough to act as mascots at a Swansea City Ladies against Cardiff City Ladies, and enjoyed a convincing home win for the Swans!"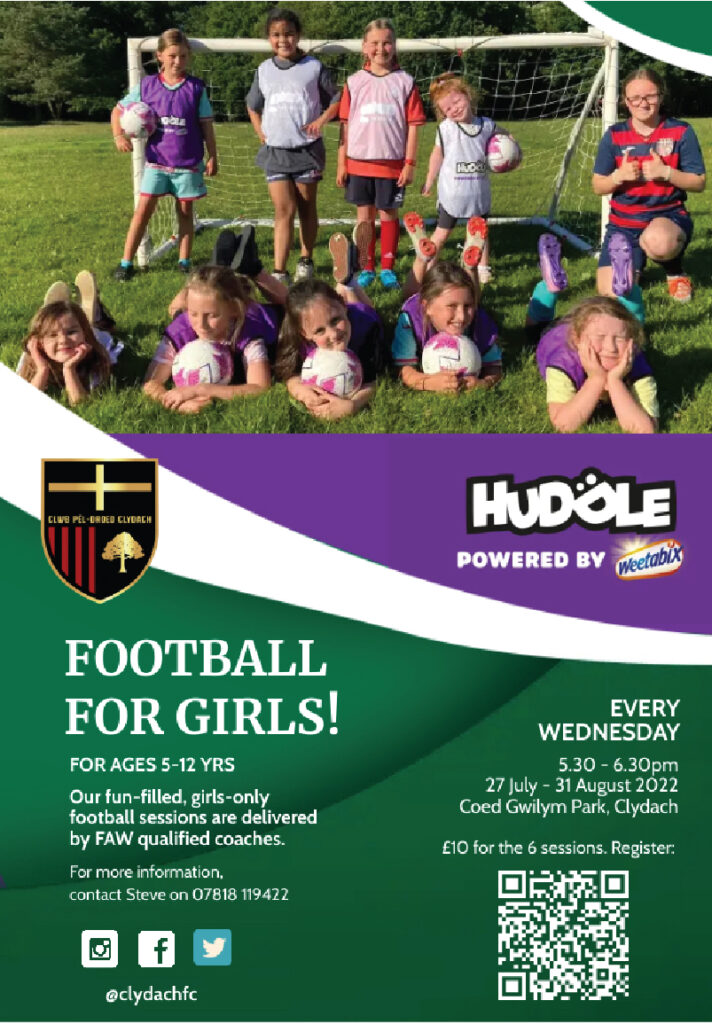 Loren Dykes MBE
We all know the importance of children being able to identify with grownups. For too long, girls haven't had that same role-model within football. It still has a very long way to go to compare with the men's game, but it is changing.
Someone who has seen this change first hand is Loren Dykes MBE. From Pontardawe, Loren has played 105 times for Wales and is currently Welsh Assistant manager. She told me that "Womens football is one of the fastest growing sports and with the Euro's currently being played over in England, as well as Wales Women currently pushing for a world Cup qualifying it is only going to take it to the next level. It is going to bring so much attention to the game, and hopefully inspire many to want to follow in the footsteps of those before them."
"The game has come so far in the last 10-20 year. When I was 10 years old, I remember not even knowing that girls football teams existed. Now women's football is a sport within its own right and a legitimate career path for so many. But we can't forget where we have come from and where it all starts, in the local clubs where the future stars of the game are being made, nurtured and are being inspired to keep developing a better future for women's football."
Last year, nearly 5,500 supporters watched Wales beat Estonia. This was a record attendance but of seismic proportion. Less than 400 supporters watched a similar fixture a decade earlier which was made up mainly of friends and families of the players.
"Empowered" Following Welsh women's team
Of the increase, 1,800 of the new supporters were under 16-year-old girls who are affiliated with a football club. Between 2016 and 2019 there was a 50% increase in the number of girls playing football in Wales. The rise has continued despite Covid.
Ava (12) and Isobel (11) are two of those supporting the Welsh Women on their quest to qualify for their first World Cup. She told me that she felt "empowered" watching the senior team and seeing the support.
Ava has played the game for a few years, but Isobel is quite new to the game. Her Dad, Nick says that "It's fair to say we would not have gone [to watch Wales] prior to her playing football." Isobel has always been involved with sports but individual sports, so this is her first experience of being a part of a sports team and its clear it's something which she is enjoying.
She told me; "I love tackling people, making them angry & frustrated. I like passing the ball to people and they score and then they tell you that it was a good pass – I enjoy being part of a team. I like always having something to do, even when you don't have the ball there's always something happening. Even when it goes wrong, like missing a goal, we can laugh about it and make fun of each other (in a good way).
It is amazing to see so many girls starting playing the game, but the next challenge is keeping them in it and having those role-models are key. Canada are one of the leading countries in Women's football but a study by Canadian Women and Sport found that among girls who have participated in sport, one in three leave sport by their late teens. By comparison, the dropout rate for teenage boys aged 16-18 is only one in 10.
Pontardawe Town Ladies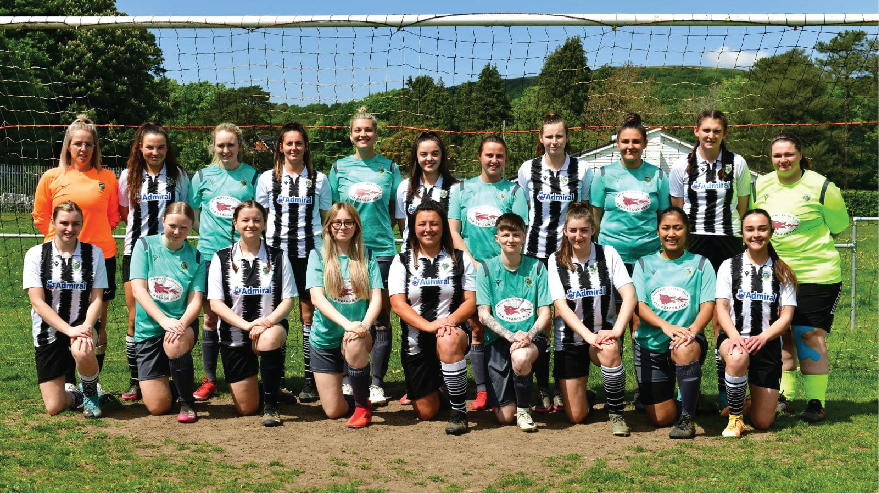 Seeing a progressive path into the Womens game is vital. Last season was Pontardawe Town Ladies first campaign with a senior team (and they have two!). Natalie Salter is the Manager and I asked her how it came about?
"We had our under 16s and we wanted to provide future football for them. Obvioulsy, we had a discussion pre covid about starting a senior team up. We started to train and had some friendlies but then Covid came along and put a stop to everything for a while. We have managed to get people back and in our first season the Blacks got promoted to Tier 2 and the Whites Won the WWWGL Ladies Cup. So, it has been a really good start."
"It is nice for the youngsters to see the progression because before we used to talk about it and try and relate it to the men but now it is visual. The girls can see the progression into senior level."
Female Coaches
I asked whether it's important to see female coaches to?
"Yes, I know some of the parents will say things to me about that and the girls do themselves to. Football is a male predominated world, but it is beginning to change, and it is nice to be looked up on in that way. I never played the game myself. I got into football because my son went through the setups and then my daughter did and so I helped out and before I know it, I'm here. Loren Dykes comes back and fore to help out and she is clearly a big inspiration for everyone involved in female football of all ages."
I was brought up playing football and I'd always been a member of a team from the age of 8 until my early 30s. To this day, most of my mates are ex-teammates of mine. I am realising that for my generation, this was something which was generally something that only boys and men had. That team bond has always been important to me and so I asked how important the team element was for Pontardawe Ladies?
"That's massive. They are a great team and that's what keeps them together. Social events, get together, fundraising, team buildings. They organise nights out, fundraising things to do or just a get together. If one team doesn't have a game, then they go and support the other team."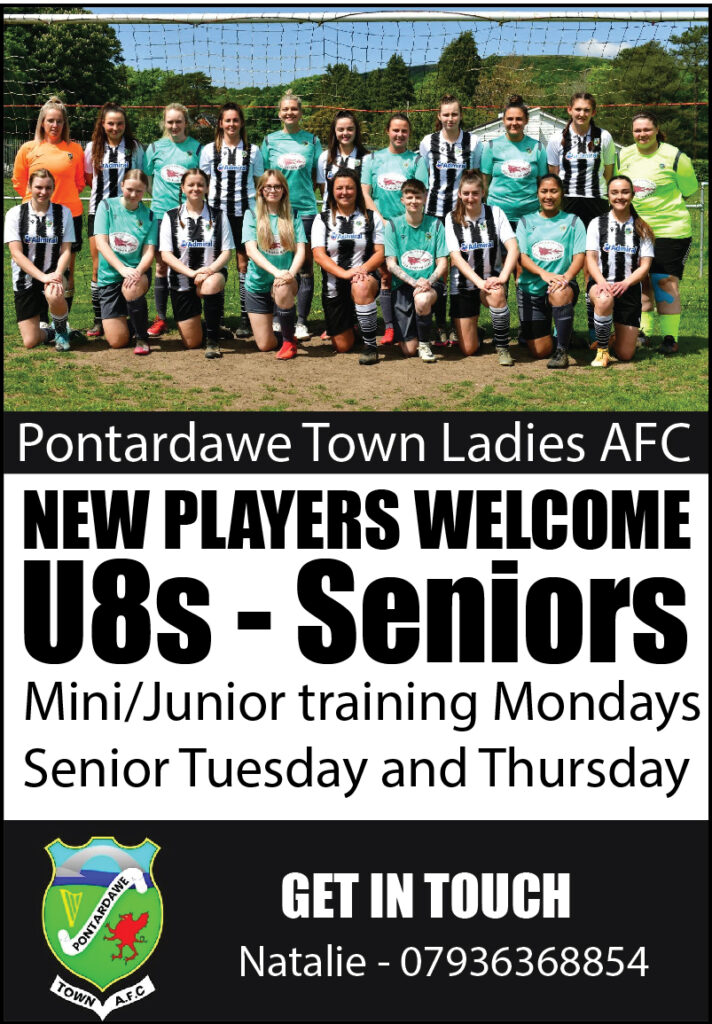 Football for confidence
Being a part of a team can be a real boost to help with confidence. Cerys plays under 12s and her mother Liz told me "When Cerys joined Ystradgynlais AFC girls she had very little confidence and found it difficult to speak to her team mates and coaches although she soon found her favourite position – goalkeeper."
"Her confidence gradually started to improve then everything was put on hold by the pandemic. At the start of the 21/22 season, with new coaches, Cerys wasn't sure if she was going to continue. Although it took her a couple of months to speak to her coaches, they took the time to get to know and understand her."
"Happy for her to be the team's goalkeeper, they spent time doing specific drills and warm-ups especially before games. Knowing her confidence wasn't high one would always stand by the goal in a game to support her. Gradually they started to stand a bit further away until they didn't need to be there."
"Throughout the season, thanks to the time and support from her coaches and encouragement from her teammates, her confidence has grown massively meaning she talks to her coaches and team mates and her head doesn't drop if the opposition manage to score. This confidence has been noticed by others, including her teachers who are impressed with the improvement she's made in school."