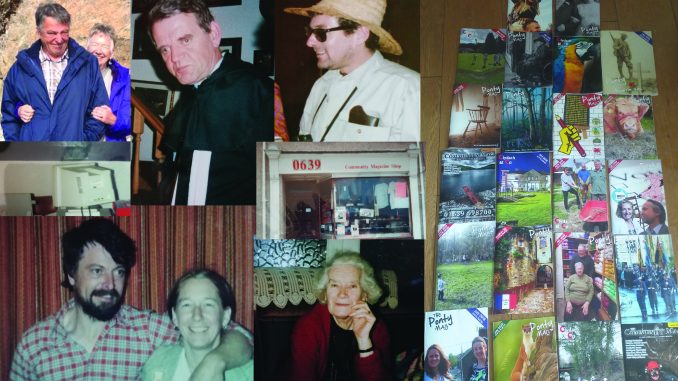 GOODBYE FROM VINCE
I've decided It's time for me to call it a day and hand over the running of the mag to my two sons Leon and Matty. Over the last 30 years or so I've accumulated some amazing memories, most of them good one or two not so good. Lyn and I first moved to South Wales from Essex 33 years ago with our 18 month old son Leon.
I worked as a Tachograph analysis sales rep covering South West Wales. Shortly after discovering Lyn was pregnant, with soon to be Matty, I was made redundant. I managed to find a new job selling cinema advertising space for the Rank group. It was well paid and came with a decent company car. But I hated it. It meant spending the weekdays away from home, staying in B & Bs or cheap hotels with other sales reps for company. It wasn't what I called family life. But it did give me an introduction to Advertising.
Meanwhile Paul, the husband of one of Lyn's friends, was starting a printing business in Neath and bit by bit the plan for my first magazine was hatched.
The magazine was going to have a 5,000 print run and be left in shops throughout the Neath/Port Talbot district. But first of all we had to come up with a name. I considered a number including 'Under Neath & Over Talbot' but probably wisely opted for the STD code and the 0639 Community Magazine was formed.
The First Magazine

The first magazine had 16 pages and a 4 page card cover. We paid for the design of the cover and for the typesetting. When the design for the cover was produced we all thought it was great and had them printed, it was only when Lyn saw it and pointed out that it said 'First Editon' instead of 'First Edition'. Proofreading has never been my forte! But we hadn't printed the inside of the covers, so I wrote a 'Message from your Editot'. Absolutely no one noticed 'Editon' but everyone commented on 'Editot'.
The typesetting that we paid for was slow and full of mistakes, so we realised for future issues we would need to do it ourselves. The Dove Community Centre, Banwen had recently taken orders of a number of computers and printers and were happy for me to use them until I received mine. This was right at the start of the new 'technological age' and ignorance was everywhere!
When I went to the Dove I was told that the computers were brilliant but they couldn't produce anything in less than 24 font. So they would print things off and then reduce them on the photocopier! OK I thought if that's what it is, that's what it is! But while I was typesetting away I hit a button and all of the other fonts mysteriously appeared. For a while they thought I was a genius at the Dove.

Eventually our own computer arrived, cutting edge technology, 32 meg harddrive, for just £2,500 pounds along with Ventura software for another £500. Remember this was 30 years ago! You had to download the fonts one by one, so you'd choose Times Roman Bold 24 font and it would tell you it would be ready in 8 ½ hours time. And of course there were no graphics, internet or scanning facilities. We'd laboriously cut out logos and images from yellow pages and newspapers and stick them on with cow gum.
Nevertheless the magazines did get produced and, although badly, I was learning a few new skills.
The Shop

We decided to take on a shop as a base in the village. The shop was owned by a wonderful woman Maggy, who lived in the adjoining building. She rapidly became the boys Welsh grandma and thoroughly spoilt them, particularly Leon who would go round to hers after school.
The shop was great. Apart from running the magazine from there we stocked a range of stationery, greeting cards, had a quality photocopier and printed T-shirts there. We rapidly became an integral part of the community and had a wide and diverse range of customers.
Regulars included the local vicar, a topless model, a local rockstar as well as countless small businesses. I'll share two of my fondest memories from the shop with you. The local vicar used to be a regular visitor, mainly for a natter. As he said, most people he saw, said 'morning Vicar' and crossed the road, but with me a confirmed atheist, he could have a cracking debate about religion. And we did. Anyway, he had an old friend come and stay. Again a 'man of the cloth' who had been a missionary somewhere in Africa. Now this particular man would turn the TV off at 9pm just in case anything untoward would appear – you know the type. So the local vicar decided it would be a bit of a wheeze to introduce him to me. So into the shop they come, I'm introduced to him, the local vicar set's us off and then takes a step or two back. And we go at it hammer and tong. All I can see is our local vicar in the background killing himself laughing!
But the most bizarre conversation I remember was when an elderly couple entered the shop. It went something like this.
'Hello, can I help you?'
'The wife and I, we're going to Australia next year'
'Yes'
'Well, we wondered if you could tell us something about it'
I hate to admit, I failed!
Going Bust (1st time)
But a bigger failure was on the horizon, the recession was beginning to bite. Most months saw another of my customers go to the wall. Banks were jittery and started to call in their debts and eventually our time too came. Although the magazine was producing a fairly healthy profit it couldn't service it's historic debts and we had to close. Worse was to follow, we lost our house and were re-housed in a council house in Cae Mawr on 'the site'.
Lyn went back to full time work and I got myself a job as a home-care assistant with NPT so I could be there when the kids were out of school. Not only was I the first male home-care assistant in the valley, I was English. But it was great. The most important part of my job seemed to be to have a good old chat.
Re-launch with Geoff

In between time my good friend Geoff (Speedy Pizza) was looking for something to do so I suggested he restarts the magazine. So that's what happened, I helped him by contacting all my old customers and away he went. But Geoff was Geoff and every month became every two, or every 10 weeks and meanwhile I was missing the mag. After a while I suggested that I did one every other month and he did the other. He suggested we went into partnership and that's what we did. I still carried on as a home-help.
Geoff was an incredible character and my boys adored him. We had some incredible fun times with him, in fairness normally fuelled by alcohol, and I know you shouldn't speak badly of the dead – but he was an absolutely useless typesetter! He had a particular problem with numbers. I remember once, the 'Copper Beech' was advertising their 'alternative Sunday Lunch' unfortunately anyone ringing their number would have got through to the vets. Now that would be an alternative Sunday lunch. To make matters worse they couldn't call us to complain because he had our number wrong too!
But, in the main they were good times and we had incredibly understanding customers! After a year with Geoff I decided to give up the home-care work and concentrate on the mag. We started our second magazine the Pontardawe and Clydach, soon to be the P & C. When I had gone bust we had owed Paul and his partner over £6,000 and Maggy over £2,000. Through Lyn's and my hard work we managed to pay back every penny and I was pleased to be able to look people in the eye.
Geoff and I decided we needed an office and we took one in a newly refurbished building in Ystalyfera that had aptly started life as a pub. Not long after we bought an old two storey ex snooker hall behind and moved in there. Things were OK. We weren't making a fortune – Community mags do not yield a fortune! The 0639 had a good, healthy customer base and the P & C was building up nicely.
Paul Joining
Meanwhile Paul, our good friend and printer was struggling with his business partner, so we decided to invite him to join us. And so the duo became a trio. We purchased some old A4 printers and some collating and finishing equipment and suddenly we were both publishers and printers.
Paul was a wonderful character. You couldn't hurry him, but he'd work till it was finished, whatever the time. He could produce quality work from antiquated machinery that he held together with elastic bands. And, like Geoff and I, he didn't mind the odd drink! Theoretically we should have done well. But the print sales we hoped to generate never really materialised so after a few years sadly again we had to close. And work wise, we went our separate ways.
Bust (x2)
I had a torrid six months selling cheaper electricity/gas door to door. The money was OK but it was difficult to handle the tedium. After 7 or 8 hours saying the same rubbish, I was tired of hearing my own voice.
Thankfully a few of my old customers started to ring me up to see if I'd restart the Magazines. This time it was what it should always have been – just me! Both mags flourished quite quickly, they were printed by Precision Print in Morriston and for the first time in well over a decade life was good. After a couple of years we were in a position to buy a house and Lyn and I decided on one in Grove Road, Pontardawe. Probably the best decision we've ever made. Computers had come on a bit and although the mags were still black and white the quality was excellent. But why do simple, when there's complications to have?
12 Magazines
Phil had worked with myself, Geoff and Paul on some sort of Government scheme for six months doing IT. He had then gone on to start his own IT company but it hadn't done too well.
So he called by to ask whether I'd mind him starting up a Community Mag in Ammanford. It was fine by me and I said I'd ring my customers to see if they wanted to go in the new mag. Within no time we decided we would go into partnership, I'd do the sales, Phil the typesetting and we'd also start a magazine for Morriston. Oh and we'd do the printing ourselves on 'Riso' machines.
Initially I had a workshop built in the garden and the four magazines were printed there. But there was no stopping us. We moved to a unit in Ystradgynlais, and we were eventually producing 12 community magazines a month, well over a 100,000 issues per month.
5 people were employed just delivering every day, there were two printers, a part time journalist, a secretary as well as Phil and I. The only problems were, we weren't making any money, the magazine looked rubbish and there was no Community feel to a Community magazine. We went bust!
Getting it right
Out of the ashes Phil and I eventually produced a 'community magazine' that covered the upper Swansea valley and Dulais valley. This time it was in full colour and a quality product. Recently with my retirement coming I've split with Phil. So for the last two years or so I've been back on my own, with Leon doing the typesetting and Matty a lot of the delivering. But more importantly I think we've remembered to put the 'community' back into Community mag. So we've cut the P & C into the Ponty Mag and the Clydach Mag, so that both represent their own communities.
Throughout this topsy-turvy journey I could never have continued without both the financial and more importantly the personal support of Lyn. From the start she's shared my interest in the magazine and has never been shy of offering her opinion, far too often correctly for my liking! So whilst my mum was constantly urging me to get a proper job, Lyn's support for me and the magazines never wavered. Hey, why would you want financial security when you can have an adventure!
I've had a ball and I fully expect my sons too. I've had so many excellent customers over the years and shared both their triumphs and their struggles.. Even in this 'social media' age where supposedly everything is at the press of a button I still think the community mags have an important part to play. Hey if you want to have a rant, send it in – I know I'm going to! Thanks to everyone whose made the journey mostly enjoyable – Vince