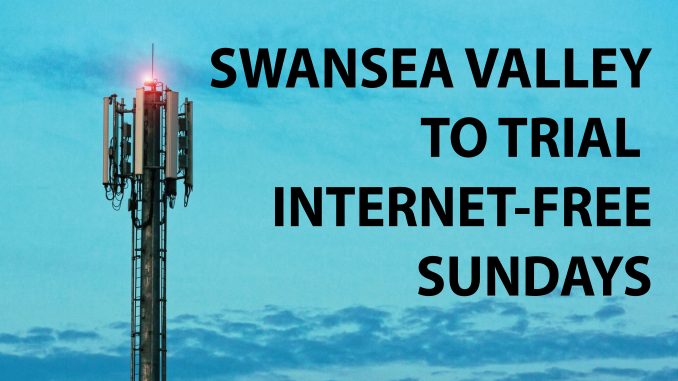 Oliver Dowden MP has confirmed that the entire Swansea Valley will trial an internet blackout on each Sunday between May 9th 2021 and September 6th 2021. This will run for the whole 24 hours each week and will include wi-fi and all 3G, 4G and 5G masts.
The Secretary of state for Digital, Culture, Media and Sport said "We have looked into any safety concerns, and we can see the benefits of the trial and there are no objections".
There were concerns that the department could block the move which had already been given the green light from the Welsh Assembly and local councils.
'Non-screen Sunday' campaigner Desmond Lewis said "It is fantastic news. The country is turning into a bunch of zombies and this is of paramount importance. The fact that the trial is in the Swansea Valley with its beautiful green spaces and across the Summer period is outstanding. We expect there to be teething problems, but kids and adults should enjoy their time without a phone or tablet."
If the trial is successful, then it could be enforced across the whole United Kingdom as early as Summer 2023. Lewis went on to say "We received over 500,000 signatures campaigning for this. Socialising is important. Exercising is important. We understand the importance of the internet, it is a brilliant thing but unless we act soon then there is a genuine fear for the Human Race. There are seven days in a week, we are simply saying that for one day, we can live without a screen. This is very exciting news".
NETHERLAND TRIAL
The trial follows a similar one in Utrecht in the Netherlands which ran over the summer of 2018. During that trial, the internet was turned off for all public and social use every day between the hours of 6pm and 8pm.
The findings of the report was positive, Utrecht Commissioner Ray Van Bernie said "We saw parks full with kids. There was an improvement within the family dynamics as parents and children got to know one another once more. Overall, there was a lot of positives to take out of the trial".
There are objections to the idea however. KeepMyStreaks.Org campaigner Joe Daniels said "This is against our human rights. I have 3 years of streaks on snapchat with some people and I would not give that up. If I lived in the Swansea Valley then I'd be looking to move out straight away. Or at least every Sunday I would".
The first internet blackout will come into place at 00:01 on Sunday May 9th. The exact areas it will effect are yet to be announced but there will be no internet available on Sundays from Ynystawe to Abercrave, including all of Clydach, Pontardawe, Ystalyfera and Ystradgynlais.
This could be a wonderful thing but sadly it is not true. I thought that we would have a little April fools. Make sure any teenagers in the house get to see this and enjoy.