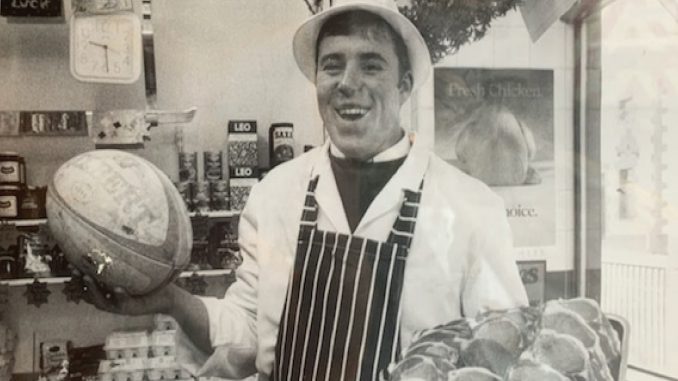 Bleddyn Howells family butchers enjoys 25 years on High Street this month. I spoke with Bleddyn, once again sadly over the phone and not in a pub about his time here in Pontardawe and as a butcher.
When was the first time that you set foot in Pontardawe?
48 years ago, when I was born or whenever I took my first steps after I was born. I lived up in Alltwen. It was a great place to grow up, I really enjoyed it. As everyone here knows, around here, everybody is a part of the community and I grew up with that. My grandfather lived on George street in Pontardawe, we would attend Sunday school, the chapel, My Grandfather was a deacon at the church. Everyone knew everyone, it was great place to be brought up.
What made you stay?
I am a bit of a home bird, I have never really wanted to fly too far away, I suppose that's the thing. Rugby is important to me, I enjoy my rugby and my roots were all here. I played rugby for Trebanos and then joined Ystradgynlais. I was fortunate to play a few games for Swansea and for Aberavon. On the wing, played for some good sides. When I played up in Ystrad, we were playing division 1 which is the equivalent of the Premiership now I suppose. Playing the likes of Pontypool, I took a few hits against them like everyone else did.
BUTCHER
How did you get into being a butcher?
I started by doing some work there after school and on the weekends. When I was 15 I would come in and do some jobs for the Taylors. They had a shop in the Waun and then this shop which I am still in now. I'd come in and clean the block after school or on Saturdays. I did my apprenticeship with them and that's that. I have been here 33 years now including my time with the Taylors. In that whole time, I have not missed one day being sick or anything in that whole time. I took 1 Saturday morning off once because we went to Italy and I wasn't back in time to open.
What is your daily routine with work, I understand you work a lot more than your opening hours?
I do yeah. Well I'm in the shop now on a Monday, when I'm closed but I'm just doing a few bits. I can't wait for the caravan parks to be open again so that I can properly get away. I struggle to stay away from the shop unless I physically can't be here. Usually, on a Tuesday and a Wednesday I am up about 6am, I'll have a coffee with my partner and then go to work by 7. On a Thursday, Friday and Saturday, I am in at stupid o'clock. It is what I'm used to now, I have been self employed for 25 years and so I know no different.
When you took over it was the middle of mad cow disease. What was that like?
I'd be honest, I was young and I didn't think much of it at the time. I was only 23 and when you are that age you don't care for many things. To be honest, I just get on with it. I took over the shop from Robert and Nesta Taylor and they were like parents to me, very helpful and supportive. They still call in the shop now. Robert comes and sharpens my knife.
Who is the better Butcher?
(haha) Oh I'm not going down that road
25 YEARS
As you said, this month marks 25 years since having the shop in Pontardawe, what is the secret to your success?
It's not about me but about the customers making it successful. That is the way that I look at it. My customers are my success, they are the priority. When I look at this year, I have had customers who have come in and given be paintings which they have drawn of me and that obviously makes you feel emotional. I have been given bottles of wine, chocolate, whiskey, cakes. It is amazing but it is the customers who have made this shop the success that it is.
How has it changed over the years?
More paperwork more than anything. These days you have to log everything down. The temperature controls and that sort of thing. Every day I would say that I spend about half an hour with paper work which we didn't used to need to do. On everything really, making sure that the deliveries, the fridges, the temperature controls are all right ad noted down.
What is your favourite cut of meat?
I don't know actually; I have never thought about it. Probably a Steak.
Most underrated?
I'm not sure of that either. A good few years back belly pork was really cheap but then a few high profile chefs started showing how to cook it and then the price went sky high. I can't think of any cut at the moment which is underrated as such.
What is the strangest animal you have butchered?
Nothing uncommon, just the usual ones that you expect.
CHARITY WORK
I know you and your customers raised a bit of money over Xmas for the nursing homes, explain that?
We had some protective face shields and we were buying them in for £2 and then we sold them in the shop for £3. The pound profit for each one went into a pot to get something for the nursing homes. Some people gave a fiver or whatever but everyone knew what it was for and they supported it really well. We wanted to raise some money to be able to give something to the residents in the nursing homes around here. Obviously it has been really hard and lonely for them over this time. Everyone was really generous and we managed to get ten boxes of Roses and Quality Street for each home. We then donated them to Dan Y Bryn, Mayflower, Tan Y Allt and Cwm Catref.
What is your favourite thing about Pontardawe
The people really. All so helpful and friendly.
Thing you would like to change?
Everyone to clean outside their own premises, if everyone done that then there wouldn't be an issue. If everyone just kept their front clean then the place would look even better.